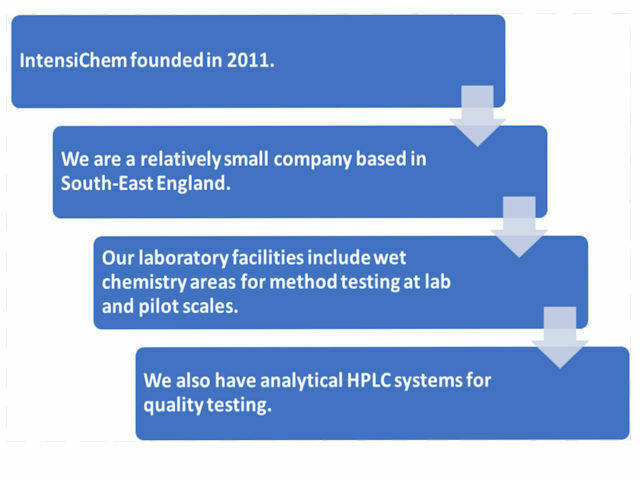 General Information
We typically operate in the pharmaceutical and fine chemicals market.
Flow Chemistry is used for increased efficiency and continuous production.
We design, construct, and supply flow chemistry systems for operation with:             
                -  Standard type chemistry
                -  Photochemistry
                -  Hydrogenation
We supply equipment for application at scales varying from lab to pilot to Industrial.
                 - Development System
                 - Pilot System
                 - Industrial System
We provide flow process development services for clients on an as needed, contractual basis.
We provide scale up development services for commercial scale operation with a maximum of 100L volume – allowing for steady state operation of pilot scale systems.
What we do
Processes are designed and directed towards scales ranging from lab to pilot to plant, with the continuous production of multi-kilogram quantities on a daily basis.
Develop or improve current processes to Flow Chemistry.
Replace batch reactor systems.
Hydrogenation.
Photochemistry.
System Development is a Stepwise Process
Step 1
Method supplied by the customer is tested and developed as part of an evaluation process to meet customer requirements.
Such a development system can be supplied for purchase.
Step 2
The development scale process is adapted for use at pilot scale and an associated system is designed, constructed and supplied.
Syntheses carried out at this stage are chargeable and carried out as proof of concept. It would also form part of commissioning in the customers facility.
Step 3
Based upon the successful pilot scale system, we can design, construct and supply an industrial scale system.
Custom Synthesis
On occasions, this may be offered at development scale.

We also carry out proof of concept syntheses.
Trial chemistry on the IntensiChem development system is chargeable.
As an example, the scale for such custom synthesis could be of the order 1.5 tonnes/year.
Confidentiality
Consultation with our customers is in strict confidence.
We review the current process and goals.
By the application of first principles, we design a process that takes advantage of the many benefits of flow chemistry and apply them to the customers desired goals.
We apply a deep understanding and capability to scale methods from lab to plant.